"His inspiration was the ocean and its natural inhabitants. His research also revolved extensively around that of a diver's foot and the movements of the human leg. As art, he has hanging in his house an interesting chart that shows the human leg in several horizontal kicking positions. His notebooks are profuse with photos and drawings of different configurations of fins. Some look like the fins of a squid. Others like a tuna and then some like a porpoise. He studied the fins of the fastest fish, and tried numerous designs and configurations to get just the right shape." –Harry J. Wirth for "The Art of Design: An Exhibition of American Design" The American Design Network, 1993
"We've been designing fins for over 35 years, and with millions of satisfied customers, we can honestly say that we're the experts in fin design. That's all we do, and we think our innovative fins are without equal in terms of comfort, efficiency, durability, performance, versatility, and sheer value for your money.
All our fins take advantage of the laws of nature and physics – and common sense. Force Fins are extremely efficient because we understand the hydrodynamic advantages of flapping foils, thrust-producing vortex, lift forces, and material rebound, and we include these state-of-the-art concepts into every fin we design.
Our Force Fin has been tested in Boeing's wind tunnel and shown to have wingtips that form a perfect hydrofoil, offering turbulent free water flow. Our work was an inspiration to the designers of the fastest and most revolutionary keels. We've since been asked to apply our fin technology to increase the speed and efficiency of oceangoing ships!
Each fin is individually handcrafted in the USA and manufactured from exclusive versions of polyurethane that are resistant to ultraviolet radiation, abrasion, and chemicals. The high-quality materials we use give our fins their snappy blade action and extreme durability. Force Fins will last for years, even when worn daily.
---
[one-half-first]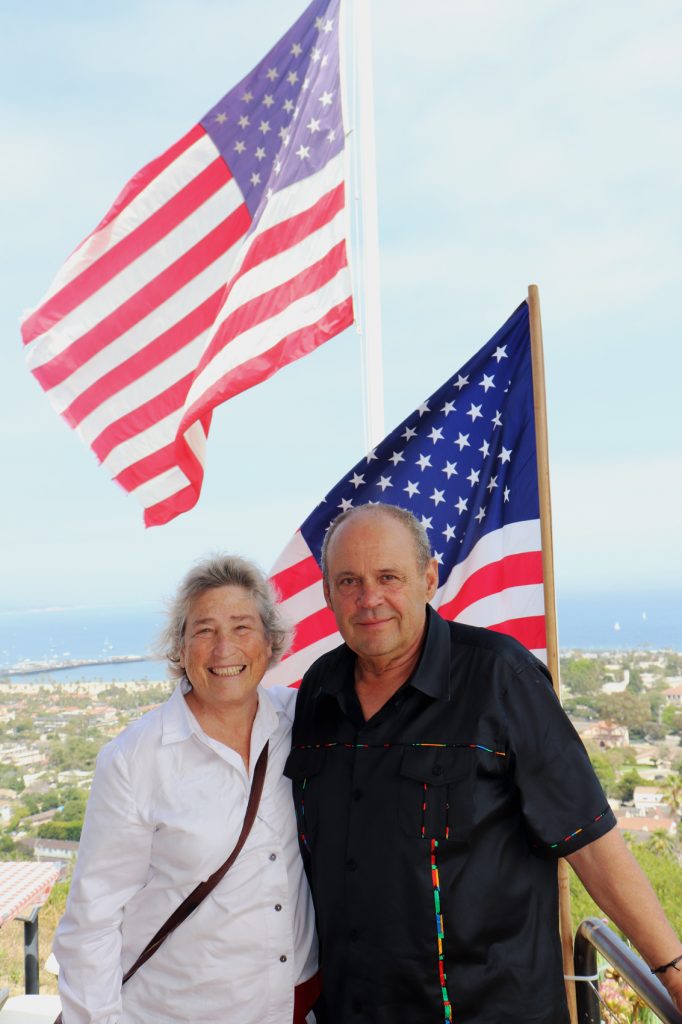 [/one-half-first]
[one-half]Bob Evans M.S. Hon Causa is a visionary, an entrepreneur, who identifies and materializes significant solutions. Founder, System Architect & Design Lead. For decades he has invested his time identifying and solving issues involving the ocean and the needs of people. Combining his ocean dive time, Bob has spent approximately 5,000 hours underwater (equivalent to 3 full-time working years). His passion for the oceans led to the development of Award-winning ocean-related products, with over 30 Patents issued. The most recent covers equipment, processes, and methods that address the cost and complexities of producing freshwater desalination using naturally occurring hydrostatic pressure from deep ocean water (DOW). Operation within this environment avoids the intake of plankton and other biomass, reducing the concentration of brine to eliminate its accumulation and lower energy cost.  His revolutionary fin designs warranted acclaim as a "Time Magazine Innovation of the Year."  His Original Force Fin and its revolutionary production mold (cut the cost of production startup by 200%) are part of the Permanent Collections of the New York Museum of Modern Art (MOMA) Dept of Architecture & Design and Metropolitan Museum of Art. Exhibits: Los Angeles Architecture & Design Museum. Boston Institute of Science & Technology. Tel Aviv Museum of Art. USIA "American Design Ingenuity." His underwater photography was exhibited at the Santa Barbara Maritime Museum. Channel Islands Maritime Museum. Cabrillo Marine Museum. Force Fins featured in Los Angeles Magazine "Hall of Fame." Lincoln Arc Welding Awarded buoyancy controlled submersible and towable camera system, and housings to protect cameras from pressure at depth. Projects: Ocean observatory, Exxon Platform Hondo. Scripps Institute of Oceanography Researchers, Sea Stars to naturally clean biofouling of offshore platforms. NOAA Grant to harvest mussels from platforms and transition canneries impacted by the loss of agricultural lands. Mussel Company established State policy for human consumption of California Mussels, founding the industry. Built and managed US polyurethane production facilities. Patented methods of manufacture to streamline product concept to market. International design award, Stevens Urethane, Easthampton, MA Former President and Director for the Academy of Underwater Arts and Sciences. NOGI, is an honor bestowed on individuals who have made a global impact on the exploration, enjoyment, safety, and preservation of the underwater world.
Susanne Chess is Co-Founder and the nuts and bolts expeditor throughout the Company's trajectory from a Santa Barbara Funk Zone trailer to an internationally recognized brand.[/one-half]