"I'm an avid diver. About 2 years ago, I took a trip to Cozumel with my dive club. I had received a pair of Fore Fins as a gift, but I'd never tried them. I decided to bring my Force Fins along because they're compact, light weight and easy to pack.
I got a lot of curious looks from everyone on the dive boat. Was I really going to dive with those funny looking fins?
I slipped on my Force Fins. I stood up and was surprised that I could balance myself wearing fins. I walked forward and easily rolled off the boat.
Descending into the water I spotted a Giant Sea Turtle. Hoping to get a picture, I took off after it.
Something was different! Amazingly, I didn't feel any physical strain  in my legs. Where was I getting all the power? Alongside the turtle now, I looked back and saw my buddy struggling to catch up. I was just swimming naturally!  The arcing and snapping action of my Force Fins powered me through the water without starving my legs for oxygen. The Truth About Dive Fins
Since then, I only dive using Force Fins. I take pride in the fact that I'm always the first diver in the water, and the last one out. returning with more air than even the dive guides.
I still get funny looks from the other divers, but I pay no attention. You can't expect a diver who has been using inefficient fins for 20 years to appreciate swimming naturally!"
–Brad Bolves, Reseda, California
Force Fin History: Beginning in 1990, we published a series of customer testimonials. The first of these was Brad Bolves. Shortly after his trip to Cozumel, Brad and his wife, Janice joined us for Sunday Brunch at the Santa Barbara Biltmore.  They brought along with them the photograph featured in this Force Fin advertisement. Brad told us about his first dive with Force Fins, chasing sea turtles while diving in Cozumel. We credit Brad with inspiring that campaign, which led to the growth of Force Fin from a cult product to a world wide recognized and respected brand.
#ForceFinnersUnite with Brad, and the other #ForceFinners by sharing your #ForceFin stories with us – by comment below – and with your family and friends through your favorite social media outlet. When you do, please let us know by searching and sharing on our relevant Force Fin page as well.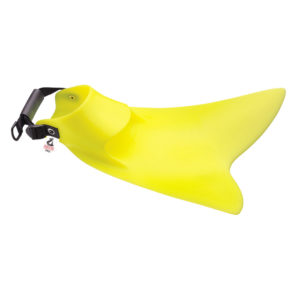 Pro Model Force Fin vs. Original Force Fin